If I would be interested in spending a long weekend at the Aegean coast? Getting to know Club Marvy and the Aegean lifestyle? Enjoy beautiful bays, views, sun, crystal clear water and good food? Of course! And even though I am not necessarily a resort type of person. I'm immediately making an exception for a place that is listed in the Net-a-Porter World's Best Beach Clubs. In this article I'm telling you more about my visit to beautiful Club Marvy.
Bohemian Club Marvy on the Aegean Coast
Bohemian Club Marvy on the Aegean Coast is located in Özdere, an hour's drive from Izmir. Club Marvy is not just a resort or club, but a luxury and stylish destination on the Aegean coast, including private beaches, swimming pools, trendy restaurants and bars and a yoga studio. The Turkish hotelier Ece Tonbul and architect Fahrettin Aykut wanted to create a new boho Aegean lifestyle and came up with Club Marvy. I'm lucky enough to exploring and enjoying this place the next coming days.
It is already dark upon arrival. During the day it is around 37 degrees celsius but it cools down in the evening and becomes very pleasant. The scent of fresh flowers, the sound of the crickets and the beautiful starry sky provide me an amazing welcome. The hotel buggy takes me to my bungalow; a beautiful, spacious and relaxing room with an incredibly soft bed. The balcony offers a beautiful view on the sea and the beach. The good thing about arriving by night is the surprise the next morning. What will it look like by daylight?
Introduction to the resort
The next morning it's time to discover Club Marvy. The area is large so you really have to find your way the first hours. Since the complex is situated in a natural environment, there is a lot of greenery with flowers, birds, palm and olive trees all around. It's lovely to start your day with a nice walk to the breakfast restaurants!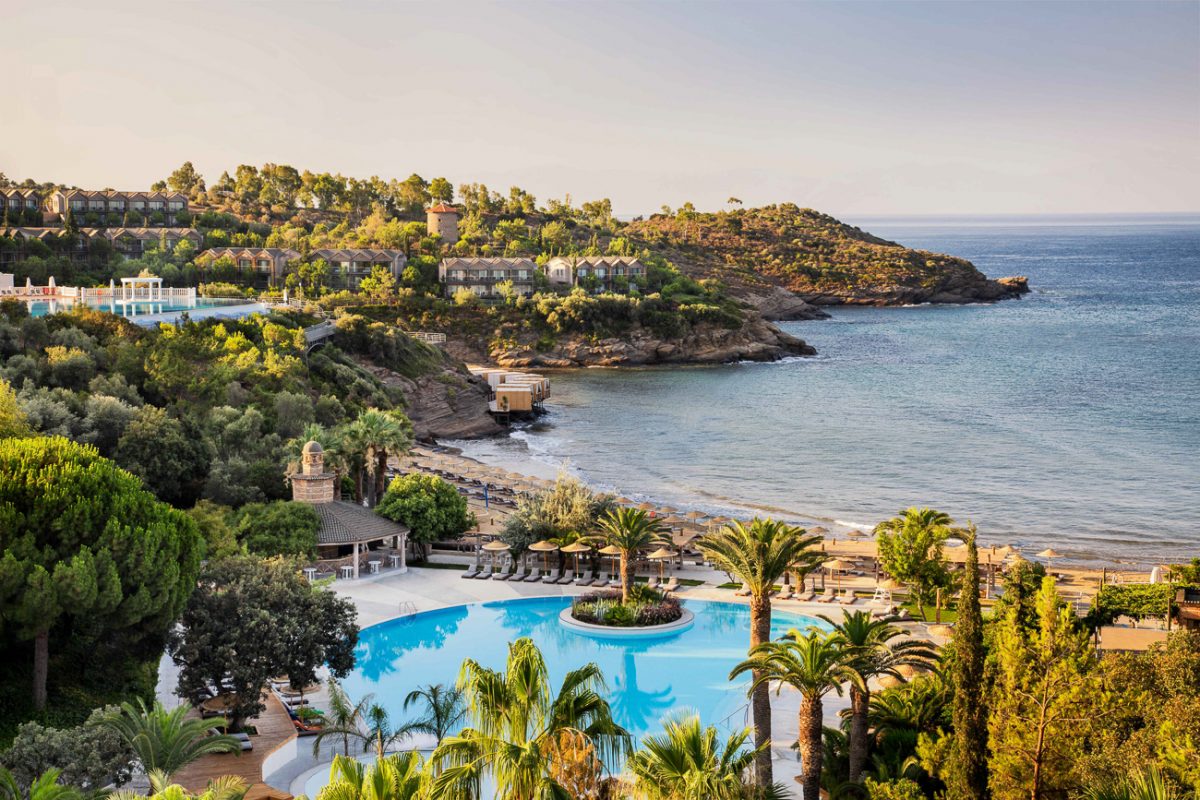 Breakfast
There are two options for breakfast: a large buffet restaurant, where you almost get lost within the amount of choices. But also a typical Turkish breakfast is possible, in Değirmen. You have to walk a bit up the mountain to reach this place. The view is stunning!
A perfect spot for Yoga
If I stay in a place for a longer period of time, I like to work out. Today I go for a yoga class. And that's not just because of the class. The location of this yoga platform is really fantastic. If only I could do this every day!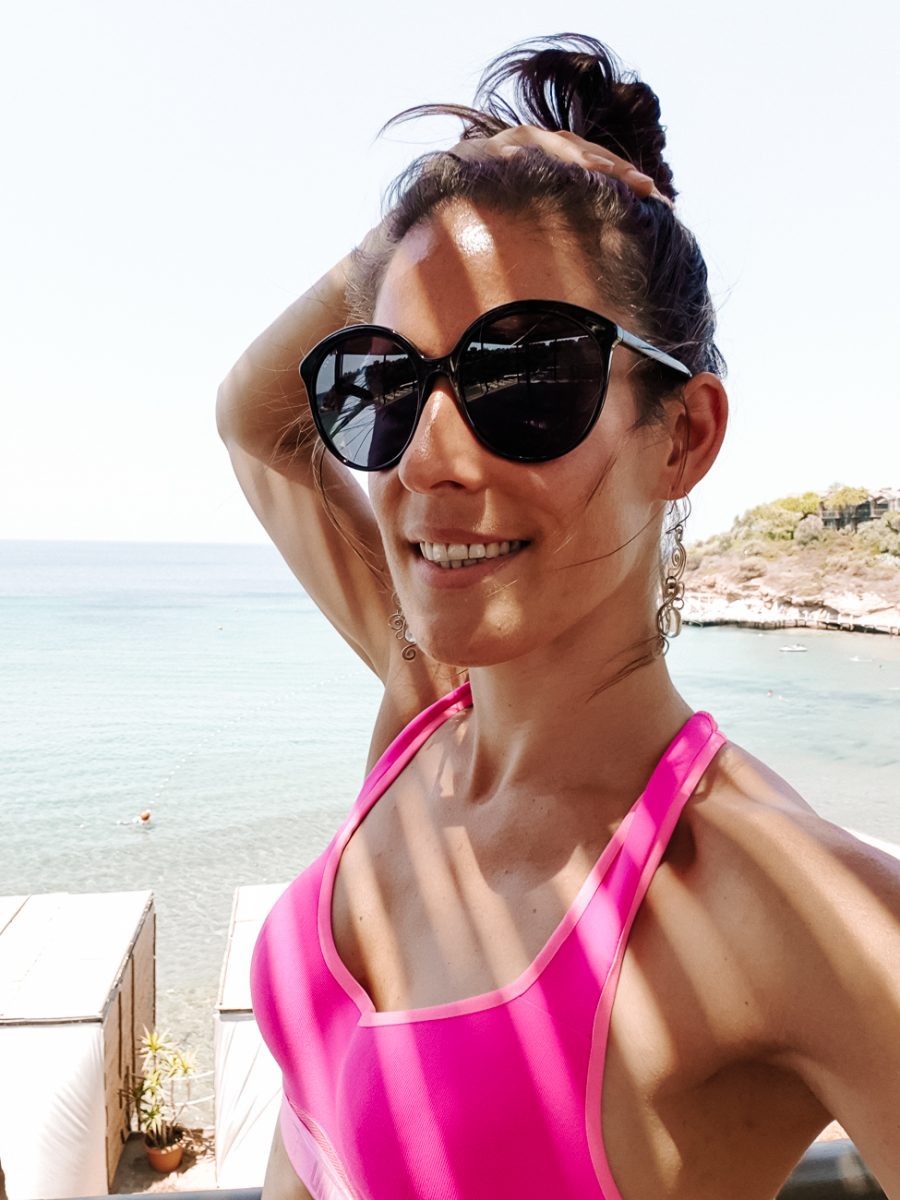 Beach or swimming pool?
Difficult decision right? You have the choice to relax at one of the pools or beaches. The pools are beautifully laid out. Since I prefer the beach, I choose the Boho Beach where you can enjoy a delicious lunch as well.
There is a separate section for families and children on the complex. You can also have your bungalow assigned here. When you are travelling with children, you will have a huge water park with slides at your disposal. Fantastic! Unfortunately there was not enough time, otherwise I would have visited this for sure.
Spa heaven
Of course a visit to the spa should not be missed. Bohemian Club Marvy on the Aegean Coast has a Turkish Hamman where you get scrubbed and massaged. After the Hamman I have a massage scheduled. The huts are located at the water so you can enjoy a wonderful sea breeze. During the massage, when lying on your stomach, you can observe the waves, because there's a hole in the massage table. All products are local and organic, something I always appreciate!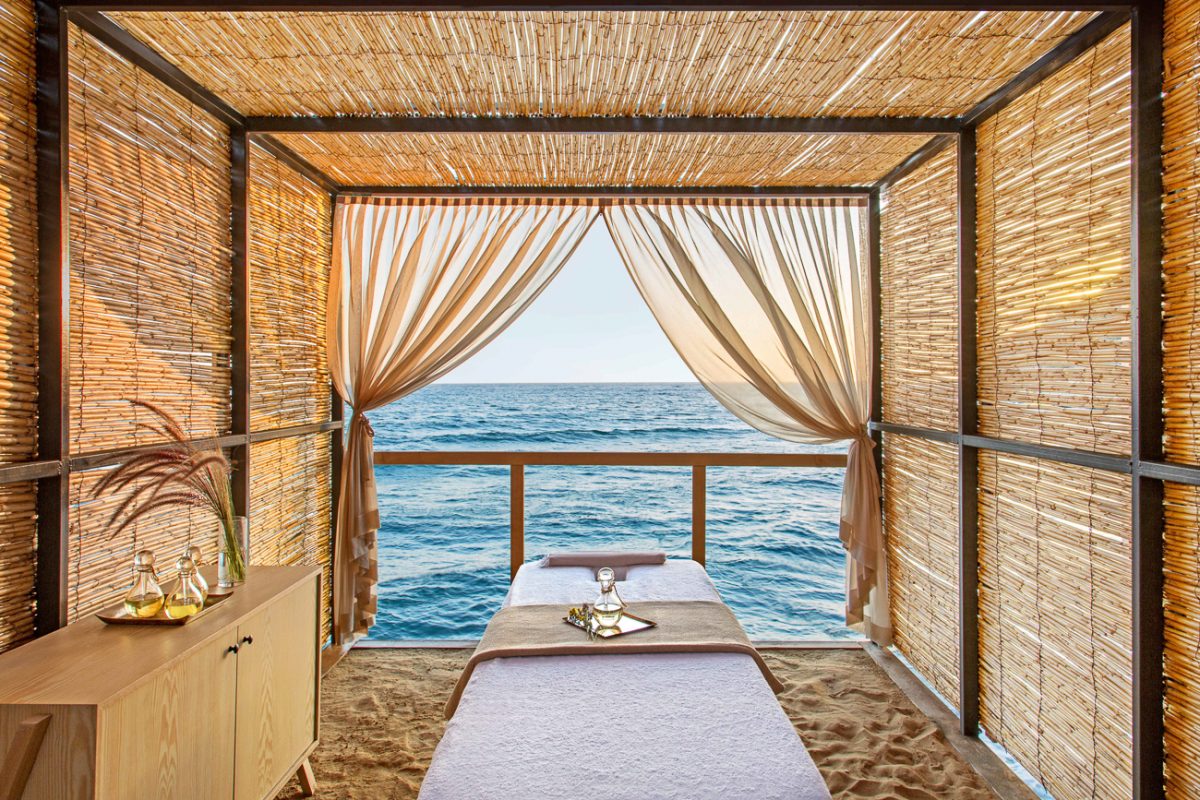 Dining at the sea
The complex has several restaurants. The best restaurant to me is İskele Meyhane, situated on a rock plateau in the sea. Here you will find the most delicious Turkish mezze's, small dishes to share. In the meantime you'll enjoy a beautiful starry sky and tunes from a Turkish DJ. All ingredients come from the surrounding Aegean villages. Super fresh and tasteful! Because of the location and the vibe, you do not have the feeling being in a resort at all. More in a hip beach bar!
Amazing cocktails
If you still have some energy left, you can continue your evening in one of the cocktail bars. Bartenders prepare the best drinks for you. Often there are also live performances. And I'm not talking about high-quality performances! That is how the famous Turkish singer Elif Çağlar performed during my stay.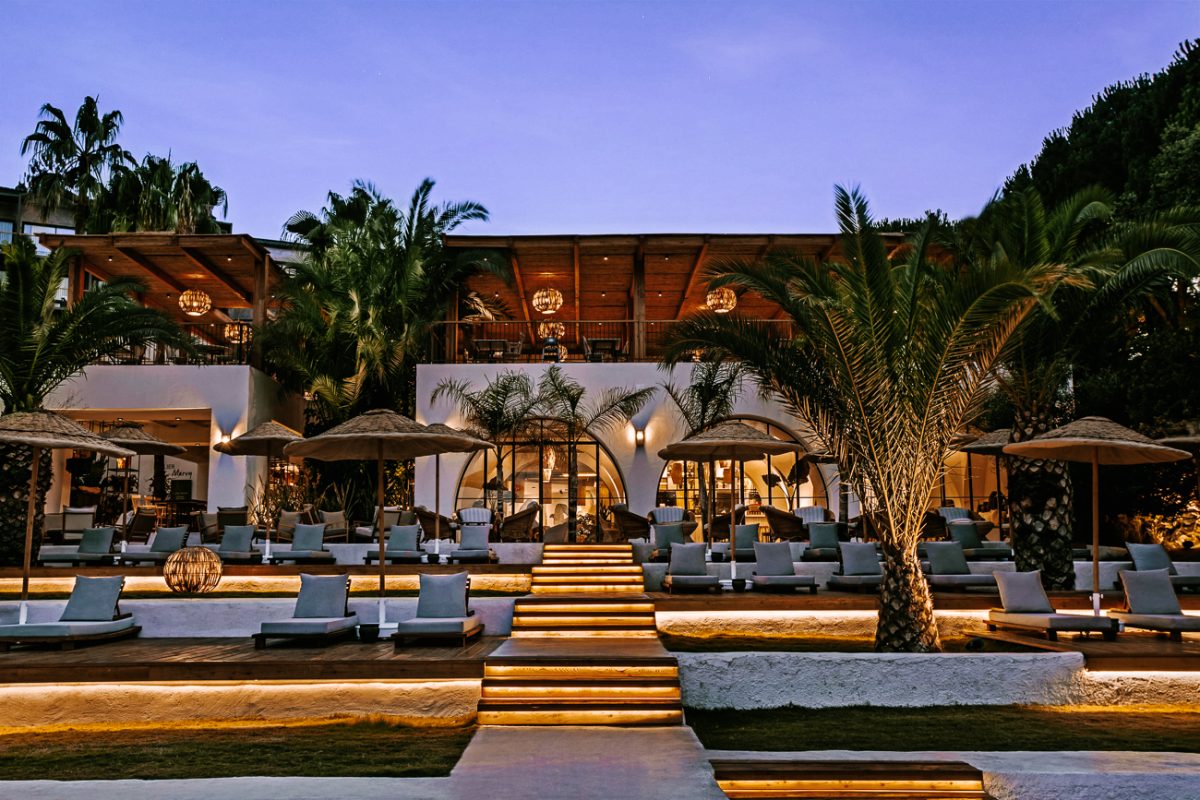 Wrapping up
I was completely pampered for a long weekend and can only be positive about this place! The luxurious atmosphere, beautiful nature, stylish interior, tasteful Turkish cuisine, and the good service ensure a perfect stay. A weekend at this place is an amazing gift to yourself!
How to reach Club Marvy?
Club Marvy is located in Özdere, about an hour's drive from Izmir. Various packages are offered on the website depending on your wishes and budget. Several airlines fly to Izmir. I flew from Amsterdam to Izmir with TUI.
Tips for trips in the surroundings
After a few days rest, I always like to explore a bit more of the area. These are my tips and experineces around Club Marvy.
The Sunday market of Sigacik
If you are here on a Sunday, visit the small town of Sigacik, a 30-minute drive from Club Marvy. The atmospheric town has a small harbor and is known for its olive and mandarin production. On Sunday you will find a large market. I love to visit markets. To observe local life, get to know a different culture, see local products but above all to enjoy the atmosphere. People are very friendly, offering you something to taste or trying to have a chat. And where people usually expect you to buy something, I didn't have that feeling here at all. It is nice and relaxing to walk around here.
Old Greek cities
After a visit to Sigacik, I decided to visit the ancient Greek city of Teos. It is a few minutes drive away. Besides that, the region is known for its ancient Greek cities.
Because I have visited quite a few archaeological sites, my expectations were not very high. And that is right! Because there is not much left of the city, only stones, you have to use your imagination a lot. The area is dry and while walking through the old city you will come across many olives and mandarin trees. It is quiet, the number of visitors is limited which benefits the experience. It's a nice place to enjoy the breeze and stroll around. Even though I don't think the place is a must-see, it is still special to walk around in a large ancient Greek city.
Pin and save for later
More about Turkey
Do you want to read and explore more in Turkey? Read my tips and must-sees for a first time in Istanbul.
This article may contain affiliate links. If you purchase something using one of our links, we may receive a commission at no extra cost to you, which helps us keep this blog alive. Thank you for your support! Please see our disclosures for more information.